Salty Dog Enduro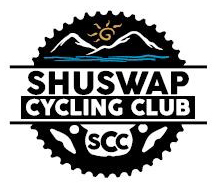 May 12th – 14th, 2023
Presented by Shuswap Cycling Club,
Proceeds from Salty Dog go towards Rubber Head and South Canoe trail
development and maintenance, & Shuswap Cycling Cycling events
---
2023 Registration is on Zone4.ca
Sunday May 14, Salty Dog 6 Hour Enduro
A super rad family fun grassroots event creating memories to last a life time. Race Solo, with Friends and/or Family, all ages welcome and encouraged to ride.
The Salty Dog 6-Hour Enduro is one of the longest running mountain bike races in B.C. – Traditionally, it has been an event where you could ride solo or in a team of 2 for 6 hours on some of the best trails in Salmon Arm, B.C. Cyclists of all ages could join in the fun with the Salty Pup race, the 3-Hour Enduro, and the full 6-Hour Enduro.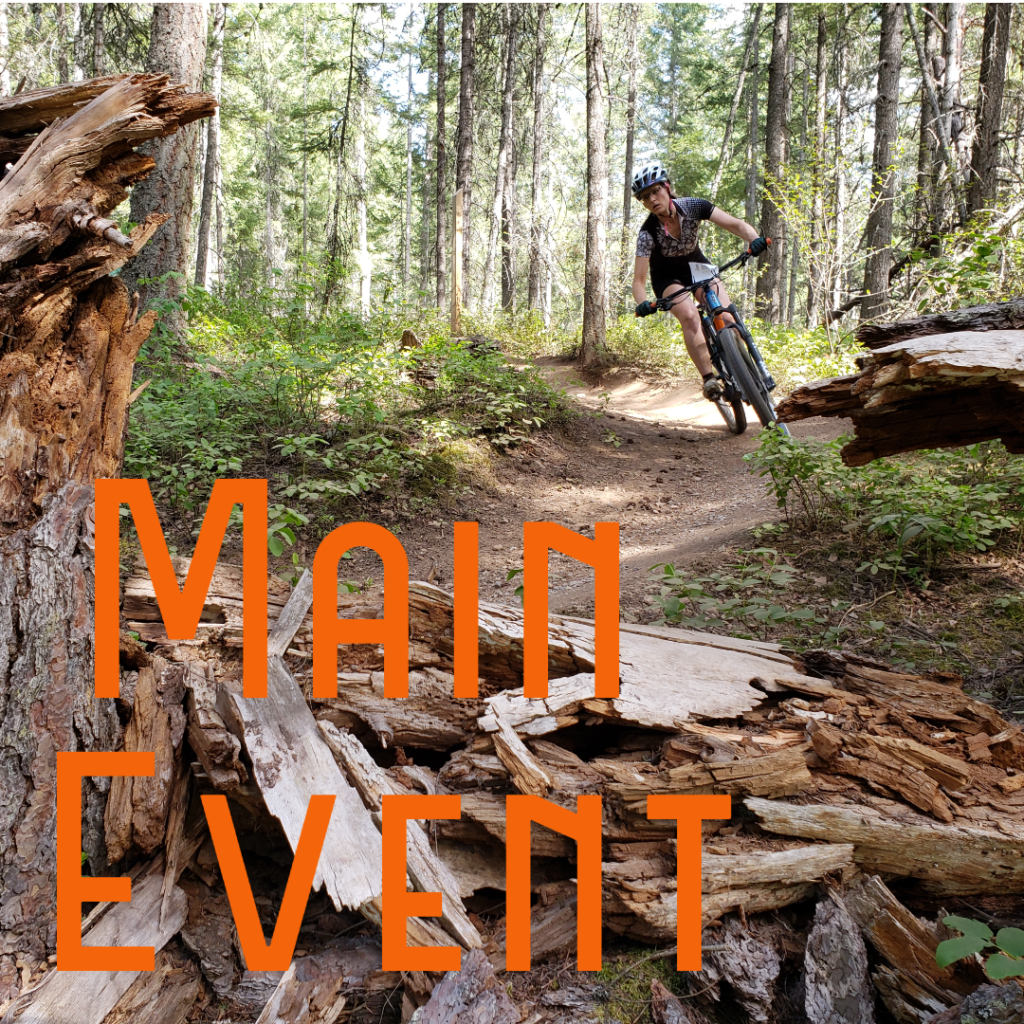 Main Event: Sunday May 14. Ride solo or in a team of two, challenge the race to to as many completed laps as you can in 6.5 hours. Race fees will include all the amazing Salty Dog amenities, all age category's are defined by racer age as of December 31, 2023. 10 am start.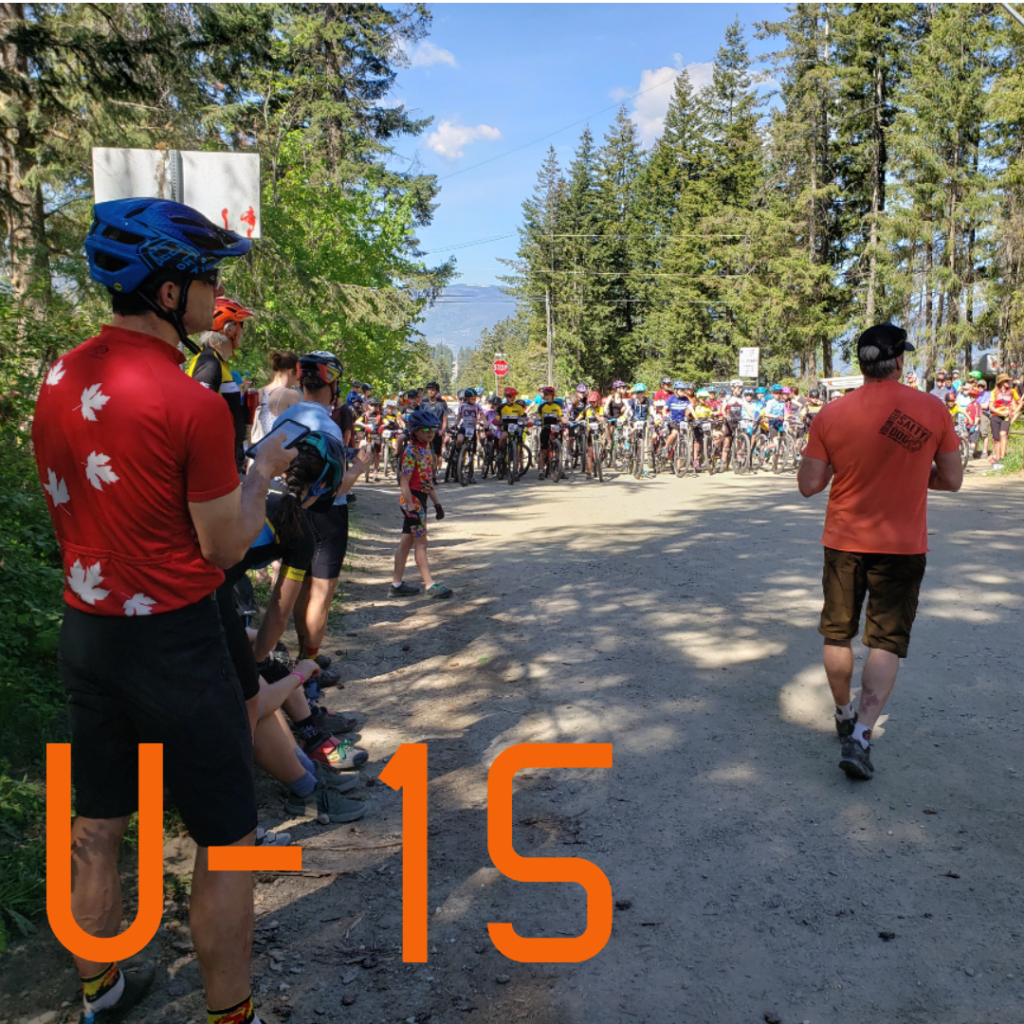 U 15 Event: A 3.5-ish km loop, racers ride in teams of two, boy/girls or mixed. Complete as many laps as you can in 3.5 hours. Door prizes and awards to follow races, T-shirts are still included in race fees. All age category's are defined by racer age as of December 31, 2023, or a U15 is a person who is still 14 or less in the calendar year 2023. 10:30 am start.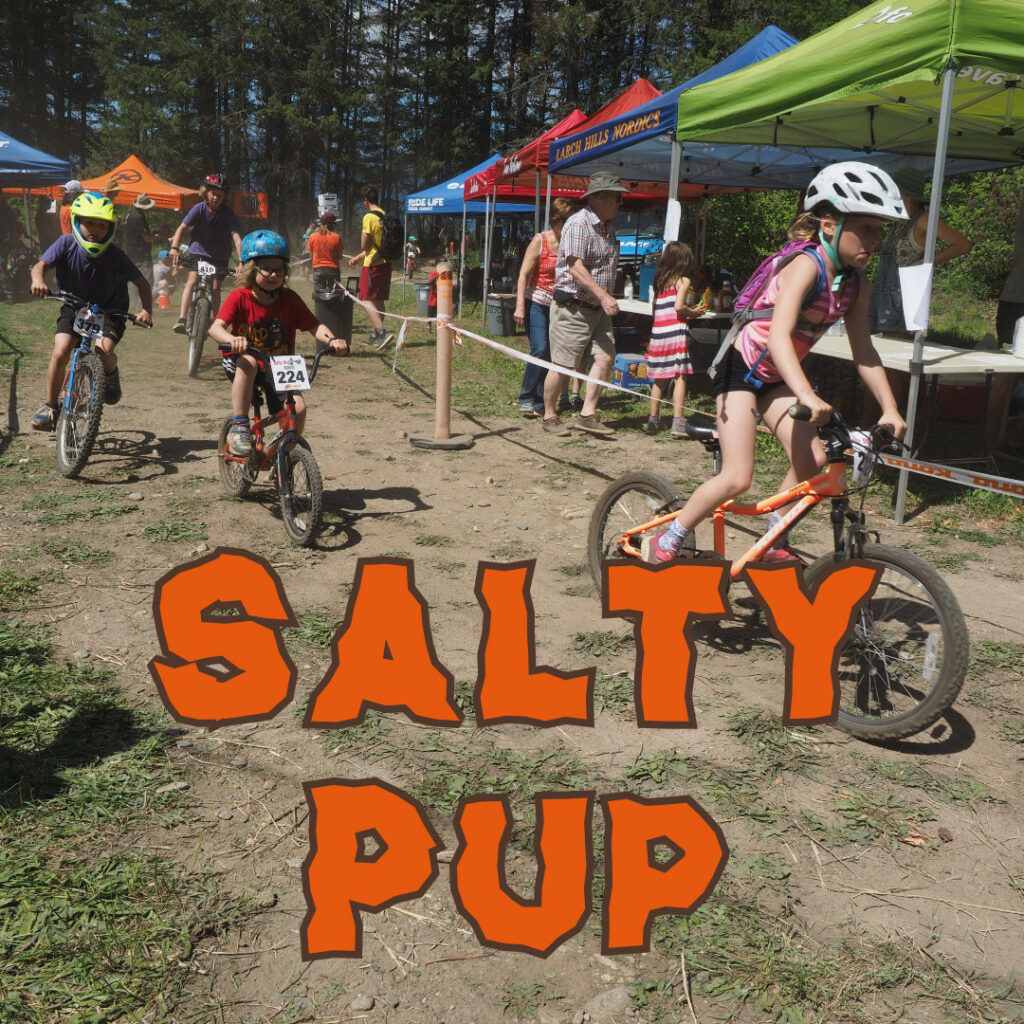 Pup Event: Riders can do as many laps of the course as they want. This parent and voly supported event happens during the main event, kids ride on their own. Flat terrain loop, about 500m, riders will be split into two groups, younger Pups on smaller bikes – run bikes to 16″ and 20″ to 24″. Start times are 11 am and 11:30 am. Post event door prizes and cookies will be given out, & T-shirts are included in race fees.
Event package includes a super rad family fun grass roots event and memories to last a life time, rider race insurance, race day nutrition, hydration, bathrooms, search & rescue back country support, start/finish line logistics, racer aid stations, Shuswap Trail Alliance give back, entry to win amazing door prizes, fantastic event volunteers, and applicable taxes.
Thank you to our industry sponsors for event support: Smith, Dakine, Norco, Rocky Mountain, Giant, Silver Star Resort, Sun Peaks Resort, Revelstoke Mountain Resort, Bell/Giro, Camelback, Shuswap Coffee Co, Shimano , & Swagman. Our sponsors supply an amazing amount of door prizing.
The Larch Hills Jr Race Team BBQ will be onsite, it smells great and provides very tasty burgers, and the Shuswap Cycling Club's beer garden will have a lot of chatter, race stories and happily hydrated people.
And Thank you as well to all our incredible community sponsors: Shuswap Tourism, Askew's Foods, The Shuswap Trail Alliance, Downtown Salmon Arm, Vella Radio, DeMille's Farm Market, Little Red Hen, Salmar Theater, Tim Horton's, BDO, HHHH Canada, Acuity Advisors LLP, Shuswap Volunteer Search and Rescue, Shuswap Pie Co, WH Laird Holdings LTD, Okanagan 24, Crannog Ales, and SASCU Credit Union!!!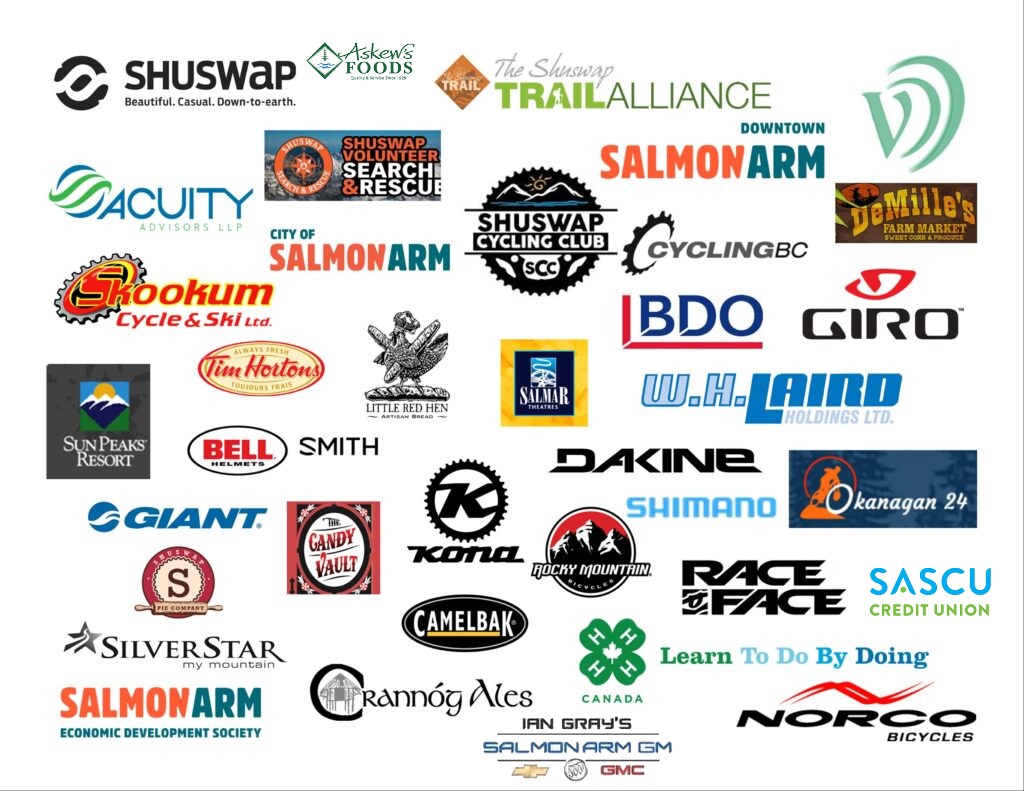 2022 event pictures are on our pictures page, all results are on Zone4.ca.
Please forward questions, comments to [email protected]
---